Ways of giving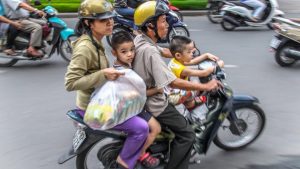 You can donate online through Network for Good or GlobalGiving. You can also send a donation via check to the address below. Please feel free to contact us directly for more information.
Outright gifts
GlobalGiving is a global crowdfunding platform for nonprofits. You can make a one-time or recurring donation via the site.

Network for Good allows you to donate via credit card or Paypal. As Network for Good is also a 501(c)(3) non-profit organization, even the transaction fee is tax-deductible.
Mail a check donation
Checks should be made payable to AIP Foundation and sent to: 
AIP Foundation 9039 East Palms Park Drive Tucson, Arizona, USA 85715  
Fundraising support
Work with us on organizing benefit events and other fundraising activities.
Contact us
For more information or to discuss new partnerships, please contact our Development Coordinator, Alex Wheeler, via email at alex.wheeler@aipf-vietnam.org or via phone at (84-28) 6299 1409.
What a donation can do

| | |
| --- | --- |
| | Buy a reflective jacket for an underprivileged child, increasing that child's visibility as he or she walks to and from school and around the neighborhood, especially at night. |
| | Provide a child from a high-risk traffic area with a helmet and traffic safety education, reducing his or her chance of injury by 69 percent and death by 42 percent in case of a crash. |
| | Donate traffic safety handbooks to 200 students, equipping them with knowledge to become role models for a new generation of safer, smarter road users. |
| | Hire a healthcare professional to hold an information session at a school, speaking to parents and the community about the importance of child helmet use. |
| | Secure billboard space to share life-saving information with the public, informing them about the importance of road safety. |
| | Fund a traffic safety training workshop for teachers at a school, providing them with innovative approaches to teaching 2,000 students about how to protect themselves from road traffic crash injuries and fatalities. |
AIP Foundation is a U.S. registered 501 (c)(3) nonprofit (EIN 06-0984827).
Newsletter
Stay informed! Sign up for AIP Foundation's free e-mail newsletter to keep up with our latest news.
Sign up for newsletter