Cambodia
What is the challenge?
Road traffic crashes caused 2,635 deaths and 55,244 injuries in 2013, costing the nation approximately 337 million USD, 2.1% of its GDP.
In 2013, motorcycle crashes caused 14 times as many fatalities as malaria, dengue fever, and landmines combined.
While motorcycle drivers are required by law to wear helmets in Cambodia, until recently no mandatory helmet law existed for passengers, resulting in helmet use rates in 2010 of 65% among drivers and 9% among passengers.
69% of road crash fatalities in 2013 were motorcyclists, 62% of whom suffered head injuries.
98% of survey respondents support a mandatory helmet law for passengers
See the WHO Country Profile and latest Cambodia Road Crash and Victim Information System (RCVIS) report for more information.
What are we doing?
AIP Foundation, the Cambodian government, private sector partners, and non-governmental organizations launched the Cambodia Helmet Vaccine Initiative (CHVI) in 2010. Our key activities include:
Educating students and youth on the importance of helmet wearing for all motorcycle users
Collaborating with the media, private sector, civil society, and citizens to advocate for the swift enactment and enforcement of draft legislation mandating passenger, including child, helmet use
Communicating to the public through television, radio, digital, and live mediums that helmet use among family and friends is a simple act of care
AIP Foundation is leveraging the government's commitment to reduce road traffic crash fatalities through its two-year Head Safe. Helmet On. project. This innovative intervention to promote life-saving traffic safety knowledge and skills to vulnerable road users is funded by the United States Agency for International Development and cost-share partners. The project strives to prevent road traffic fatalities and injuries through three mutually-reinforcing components: providing helmets and road safety education to primary school students, improving passenger helmet use behavior through mass media and street- and commune-based campaigns, and supporting the government in passing and enforcing a helmet passenger law.
What do we hope to achieve?
To increase passenger helmet use in three project locations (Phnom Penh, Kandal, and Kampong Speu provinces) to 60% by the end of 2015.
Find out more:
Read our baseline study "Motorcycle helmet attitudes, behaviours and beliefs among Cambodians" and the Passenger Helmet Story, a report on the second phase of CHVI activities.
Latest photos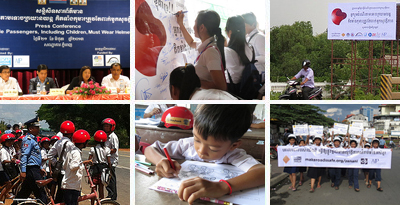 Newsletter
Stay informed! Sign up for AIP Foundation's free e-mail newsletter to keep up with our latest news.
Sign up for newsletter