"Pop-up" child helmet retail kiosk piloted to increase child helmet use in Bangkok
13-12-2013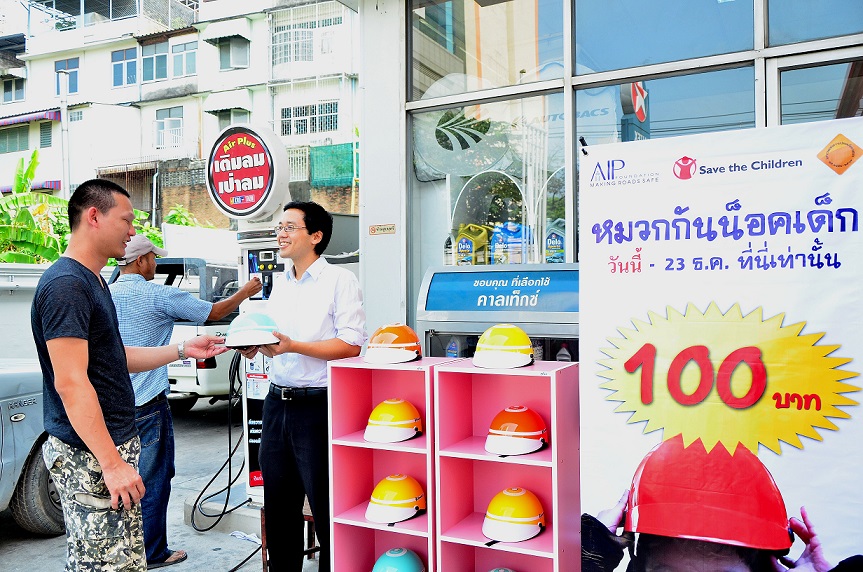 On December 11, AIP Foundation launched a trial "pop-up" helmet retail kiosk at a petrol station in Si Praya, Bangkok, that aims to increase accessibility of children's helmets. During the two week pilot, the kiosk will sell discounted children's helmets that have been kindly donated by Vespiario (Thailand) Co., Ltd., and trained staff will interview customers about their response to selling children's helmets at petrol stations and the motivations behind their purchases.
Save the Children is partnering with AIP Foundation, the Global Road Safety Partnership, and CSR Asia to establish a new child helmet wearing campaign in Thailand. As part of the development of this program, AIP Foundation Thailand is conducting a series of small experimental trials throughout Bangkok running from November 2013 to January 2014 and funded by the FIA Foundation and the Road Safety Fund. These trials are testing new and innovative approaches to increasing child helmet use in Thailand.

Newsletter
Stay informed! Sign up for AIP Foundation's free e-mail newsletter to keep up with our latest news.
Sign up for newsletter