Opinion Piece: Tanzania: Enough of Road Carnage
07-09-2014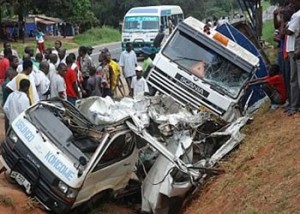 Tragic accidents are becoming increasingly commonplace on our roads. The latest has claimed more than 36 lives and injured more than 80 people when two buses collided head-on, and in the process caused another private vehicle to plunge into the river. The accident occurred on Friday morning at Saba Saba area in Butiama district, Mara region and, as is always the case, the usual suspect is said to have been over-speeding on the part of the drivers of the two buses.
Why is it that law enforcers become active after accidents, and do not seriously engage in authenticating a driver's competence? It is an open secret that many of these drivers behind wheels have acquired driving licenses without undergoing proper training. Driving is not only about holding the steering wheel and changing gears, but adherence to all road safety rules and regulations, and most importantly, the ability to make sound and reasonable judgment.
Source: Tanzania Daily News via All Africa, 7 September
Newsletter
Stay informed! Sign up for AIP Foundation's free e-mail newsletter to keep up with our latest news.
Sign up for newsletter