Extra-curricular activities funded by Intel in Phuoc Long and Phuoc Thanh schools
29-02-2012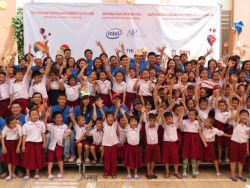 On February 24th and 29th, students from grades 1 to 3 in Phuoc Long and Phuoc Thanh schools participated in road safety themed extracurricular activities. These activities aimed to keep the children excited about the safe habits they recently learned. It was particularly exciting for the students to have 160 Intel staff members join the activities. They played with the children as competitors as well as game facilitators.
The day started off with songs and road safety quizzes to introduce the day's theme. Next, the students and Intel volunteers did crafts depending on their artistic preference. Some drew pictures, while others made road safety images with colorful paper and beans. "Phuoc Long's Got Talent" and "Phuoc Thanh's Got Talent" featured student performances where the schools discovered their best performer! The children left their school with smiles on their faces and helmets securely strapped onto their heads. At Phuoc Long school, the day's activities were filmed by television channel HTV 7 for a short documentary about the excellent implementation of traffic safety projects.
Phuoc Long and Phuoc Thanh schools in Ho Chi Minh City's District 9 have been conducting three of AIP Foundation's school programs: Helmets for Kids, Safe Routes to School, and Click on Safety. These helmet donation, pedestrian education, and computer-based programs are being funded by Intel Products Vietnam, one of AIP Foundation's longest running corporate partners.
Newsletter
Stay informed! Sign up for AIP Foundation's free e-mail newsletter to keep up with our latest news.
Sign up for newsletter