CEO speaks with media on road safety challenges and opportunities within Vietnam
18-04-2018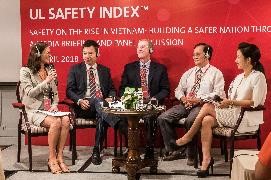 CEO Mirjam Sidik discussed challenges and opportunities with road safety in Vietnam as part of a panel discussion and press conference attended by 25 members of the media. Sidik joined representatives representatives of the Underwriters Laboratories (UL), a global safety science company, and the College of Transportation Ho Chi Minh City.
The press conference was organized by UL to announce the unveiling of an update to its annual UL Safety Index. Among the new aspects of the latest UL Safety Index is the incorporation of additional data sets, including road safety. While Vietnam has risen in the global rankings for certain safety criteria, the index found that transport safety within the country requires improvement. Suggestions discussed by the panelists included behavior change education, especially for youth; road infrastructure improvements; and further development and enforcement of road safety codes and laws.
View more photos from the press conference here.
Newsletter
Stay informed! Sign up for AIP Foundation's free e-mail newsletter to keep up with our latest news.
Sign up for newsletter