History
AIP Foundation was founded by Greig Craft in 1999 to raise awareness about the social, economic, and human impact of the rising number of road crash injuries and fatalities in developing countries, beginning with Vietnam.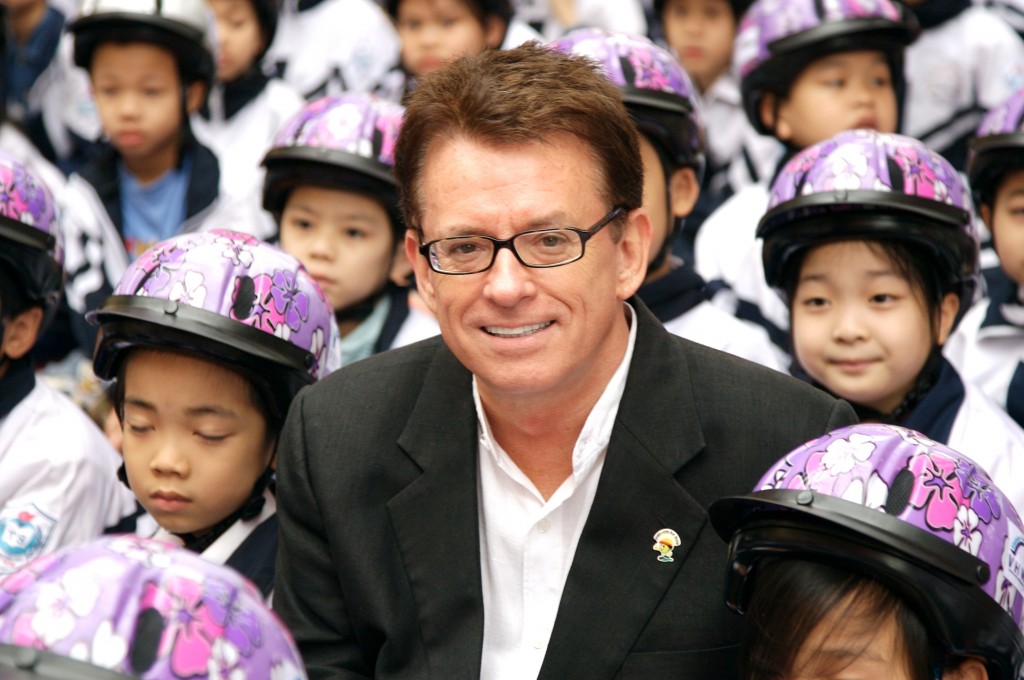 In the decade leading up to AIP Foundation's establishment, the motorcycle emerged as a symbol of progress, mobility, and freedom in developing countries, yet the world was just beginning to realize the deadly side effects of such rapid motorization, as road traffic fatalities and injuries skyrocketed.
We set out to find replicable solutions for reducing road traffic casualties among vulnerable road users, including motorcyclists and bicyclists, identifying the helmet as a uniquely affordable and effective 'vaccine' against head injuries and fatalities on the road. Similar to a vaccine against infection, helmets can prevent the most severe, long-lasting effects of road traffic crashes.
We then began to target the youth who would make up the majority of road users in five to ten years. In 2000, former President of the United States, Bill Clinton, launched Helmets for Kids – AIP Foundation's first school-based program.
We quickly recognized that the presence and accessibility of high-quality, affordable helmets in the Vietnamese market were limited, so in 2001, AIP Foundation began producing the world's first 'tropical' motorcycle helmet in its non-profit Protec Factory in Hanoi.
After a decade working to improve road safety conditions for vulnerable road users, we now have approximately 40 employees implementing programs across Asia and Africa. Our significant growth and numerous achievements are detailed in our Annual Reports and highlighted below:
2001: Vietnam adopts a child-specific helmet standard.
2004: AIP Foundation develops its first road safety curriculum for primary schools.
2004: HM King Norodom Sihamoni and Handicap International Belgium endorse Protec helmets.
2006: AIP Foundation expands to Thailand and Cambodia.
2006: AIP Foundation joins the United Nations Road Safety Collaboration.
2007: Vietnamese President Nguyen Minh Triet presents Greig Craft with Vietnam's first "Medal for Contribution to Education."
2007: Resolution 32, a decree making it mandatory for all motorcycle drivers and passengers in Vietnam to wear a helmet on the road, comes into effect.
2008: Following the enactment of Resolution 32, combined with AIP Foundation's "Wear a helmet. There are no excuses." campaign, fatalities in Vietnam drop by 12 percent and injuries, including traumatic brain damage, drop by 24 percent.
2008: Advisory Board Member Dr. Terry Smith begins consultations with the Cambodian government to develop a motorcycle helmet standard, later approved in 2010.
2009: AIP Foundation, in collaboration with the FIA Foundation and the World Bank Global Road Safety Facility, establishes the Global Helmet Vaccine Initiative, to "put a helmet on every head in the Decade of Action for Road Safety."
2009: At the Global Ministerial Conference on Road Safety in Moscow, AIP Foundation receives its second Prince Michael of Kent Special International Award for Innovation.
2009: Safe Kids Worldwide appoints AIP Foundation to represent the global network in Vietnam by implementing the Safe Kids Walk this Way program.
2009: Protec is a finalist for the United States Secretary of State's Award for Corporate Excellence.
2009: AIP Foundation receives the Golden Bell Award for its child helmet television commercial "Rush Hour."
2010: AIP Foundation President Greig Craft receives the first Road Safety award from the Federation Internationale de Motocyclisme (FIM).
2010: The Cambodian Prime Minister endorses AIP Foundation's "One Helmet. One Life." television campaign.
2010: AIP Foundation attends UN General Assembly to advocate for a resolution proclaiming 2011 – 2020 as Decade of Action for Road Safety.
2010: The United States Centers for Disease Control and Prevention begins its partnership with AIP Foundation by providing support for baseline surveys to set the groundwork for public awareness campaign activities in Uganda and Cambodia.
2011: AIP Foundation President Greig Craft is awarded the Vietnamese Friendship Medal, Vietnam's highest civilian honor, and the Ministry of Transportation Medal.
2011: The Cambodian National Road Safety Chairman appoints AIP Foundation as a member of the Technical Working Group for Road Safety.
2012: Tanzania Prison Service, a division of the Tanzania Ministry of Home Affairs, signs a memorandum of understanding with AIP Foundation as the Tanzanian Government's first step toward establishing a helmet factory based on the Protec model.
2012: Uganda adopts a motorcycle helmet standard developed by Global Helmet Vaccine Initiative.
2012: AIP Foundation is appointed as a member of Thailand's National Road Safety Directing Center sub-committee.
2012: AIP Foundation partners with Chevron to pilot a pedestrian safety program, Walk Wise, for students in Kai County, China.
2013: "In Retrospect," a documentary created by AIP Foundation about the need for children to wear helmets on motorcycles, is awarded the grand prize at the Global Road Safety Film Festival in Paris.
2013: Save the Children partners with AIP Foundation to establish a new child helmet wearing campaign in Thailand.
2014: Helmets for Families is launched to promote family-wide helmet use, which includes a helmet exchange program for parents to trade in their sub-standard helmets for quality helmets.
2014: USAID and AIP Foundation partner for "Head Safe. Helmet On." project aimed at increasing passenger helmet use in Cambodia.
2014: AIP Foundation is awarded the Vietnam Union of Friendship Organizations' Certificate for outstanding contributions to the socioeconomic development of Vietnam in 2014.
2014: Deputy Prime Minister Sar Kheng presents Royal Order of Sahametrei Medals to AIP Foundation for their contribution to road safety efforts.
2015: AIP Foundation President Mr. Greig Craft is awarded with the Certificate of Merit by the Da Nang People's Committee.
2015: Cambodia approves new Road Traffic Law mandating helmet use for all motorcycle passengers, including children.
2015: AIP Foundation and U.S. Department of State sign MoU to raise funds to provide helmets and road safety education to students across Vietnam.
Newsletter
Stay informed! Sign up for AIP Foundation's free e-mail newsletter to keep up with our latest news.
Sign up for newsletter