New York City's Mayor Bloomberg Attends Helmets for Kids donation sponsored by WHO
23-03-2012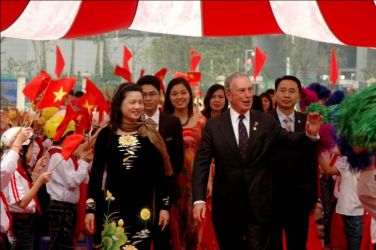 In Hanoi, New York's Mayor Bloomberg attended a Helmets for Kids ceremony at Nam Trung Yen School on March 23rd. This event was run by the World Health Organization (WHO), in collaboration with Asia Injury Prevention (AIP) Foundation, Vietnam's National Traffic Safety Committee and the Ministry of Education and Training.
Along with Mayor Bloomberg, members of the Vietnamese and the United States governments assisted in the handover of 1,211 helmets to primary school students and teachers, which followed a training course for the school's 75 teachers on correct helmet use.
While most students at Nam Trung Yen School are driven to school on their parents' motorbikes, very few wear helmets during their daily commutes. The school is located along a busy road and is next to a construction site which creates a disorganized and highly dangerous traffic environment. In addition, the students' average socioeconomic level prevents many parents from making the purchase of high quality helmets a priority.
Through their direct support of this helmet donation, the WHO, the Vietnamese government, and Bloomberg Philanthropies are taking an active measure in reducing the numbers of deaths and injuries on Vietnam's roads. Helmets for Kids drastically reduces the students' likelihood of death or injury in a road crash, which is the second highest cause of death among children aged 5 to 14.
Newsletter
Stay informed! Sign up for AIP Foundation's free e-mail newsletter to keep up with our latest news.
Sign up for newsletter